Products
All You Should Know Before Buying Leather Gloves
Safety gloves are an essential part protective gear in commercial and industrial environments—and leather gloves stand out as the best choice of material in safety gloves. These are used to protect the workers' hands from exposure to hazardous materials and any subsequent effects of contact.
Moreover, leather gloves improve efficiency; gloves facilitate a strong grip while working as well as limit distractions by enveloping the hand in comfortable way. Glove manufacturers offer different features in leather gloves. When buying leather gloves, you need to find the right combination for your purpose.
Why Choose Leather?
Leather is considered one of the popular materials for manufacturing different types of clothing and accessories. What makes it the unparalleled choice for work gloves?
Unparalleled Cut Protection: Leather is incredibly tough, sturdier than rubber and thicker than latex. It is highly resistant to punctures, which makes it the optimal choice for protective wear in industrial work, especially in using heavy machinery. Buying leather gloves is the ideal choice to ensure protection of all workers employed in heavy machinery operations and comply with workplace safety standards.
Secure And Steady Grip: Leather gloves have a unique external texture and a comfortable lined interior. Whether it comes to lifting heavy steel, assembling machine parts or handling fragile equipment in lab work, leather gloves facilitate unmatched grip control.
Great Impact Resistance: People most commonly use leather gloves in rigorous industrial applications such as mining and digging. This is because the rough surrounding and constantly moving machinery can damage uncovered or poorly covered hands. Leather gloves provide protection against high impact energies, as well as abrasions and lacerations.
What Makes The Perfect Leather Gloves?
There is no one right type of leather glove. The perfect glove is a combination of protective features that suit the type of work these are used for, whether it's welding, mining, assembly, carpentry, drilling, or any other purpose.
Following are some of the essential features you should consider before choosing a leather glove.
Quality of Leather
Leather is derived from tanning animal hides or skins. Manufacturers use various animals skins to procure leather. The quality of leather, also known as the grain of leather, depends on the animal, manufacturer has sourced it from.
Leather quality is of four types: full-grain, top-grain, genuine leather, and corrected-grain. High quality leather gloves are typically manufactured from full or top grain leather.
Full Grain Leather is considered the superior type. It is usually sourced from cows, goats and sheep. It has a luxurious feel and minimal flaws. High-grain leather is highly resistant to wear and tear, and is typically used to create high-end footwear and gloves.
Top Grain Leather is second-best in leather quality, and the most preferred kind for various wearable leather goods, including gloves. It is malleable enough to be cut and stitched into versatile work gloves, yet sturdy enough to endure high impact of commercial and industrial applications.
Cowhide and goatskin leather are both great choices for premium leather gloves. These are usually moderately priced, and offer unmatched comfort, durability and cut resistance.
Size of Glove
The size if one of the trickier aspects of choosing a leather gloves, especially since commercial use leather gloves need to fit well to ensure complete safety and efficiency.
Inquire about the sizes available before you choose a manufacturer. Since work gloves may be require in bulk quantities, look for customized orders. Assess the needs of your workforce; count out how many variations of size you need and in what quantity before placing the correct order.
Remember, a poorly fitted glove is not only a safety hazard, but also a hindrance in work performance.
Intent of Use for Buying Leather Gloves
Driver gloves are not the same as welding gloves, and assembly gloves are not the same as mining gloves. You can choose as per your needs because each pair of glove has a different application.
For instance, welding gloves protect you from the extreme heat and hand fatigue from constantly wielding weighty equipment. Mining gloves keep your hands safe from impact of heavy machinery and any falling debris.
You can learn more about the type of glove you need for your particular industrial use by consulting a leather glove manufacturer or expert.
Care For Leather Gloves
Lastly, before buying leather gloves, know how to use and maintain your pair. Leather gloves are a significant investment, and using these properly is imperative for lasting use. Below are some tips you can adopt for protecting your gloves.
Put On/Remove Properly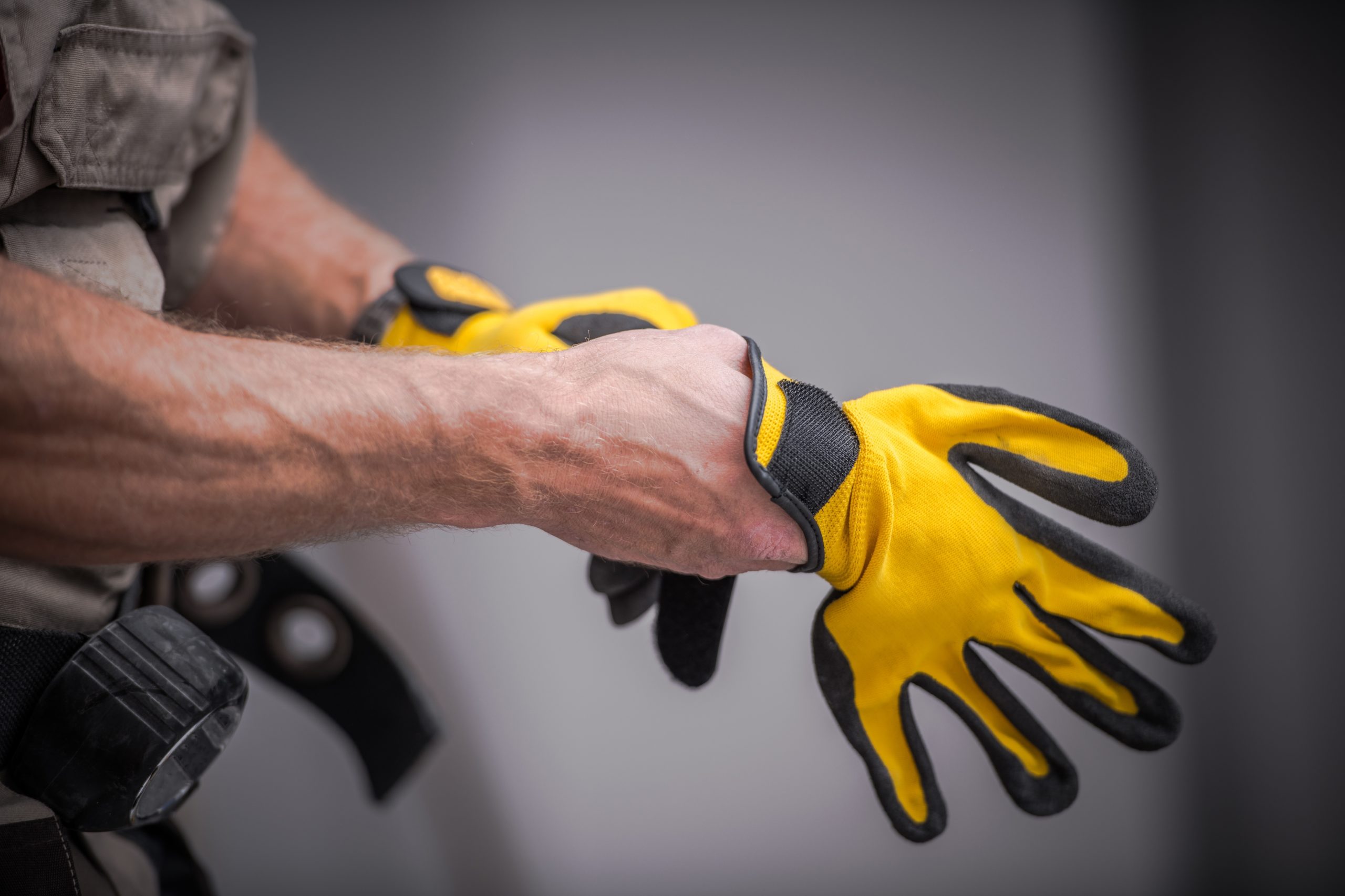 Leather gloves, especially new leather gloves, can be a tad snug when first put on. We recommend not to tug your gloves. Instead pull gently, altering between back and palm. The same goes for taking the gloves off; push at the base and tug gently at each finger to remove your gloves.
Stretch Occasionally For Elasticity
Leather gloves can shrink overtime, especially after prolonged lack of use or during cold weather. To ensure perfect elasticity and maximum comfort, stretch your gloves periodically. You can do this by holding the glove across the edge of a table, fingers at top, cuff at bottom. Gently slide each part of glove on the edge: palm, fingers and thumb.
Avoid Prolonged Water Exposure
The key to maintaining the aesthetic appeal and quality of both lining and exterior of a leather glove is to keep them dry. To dry your gloves, you can air dry away from sunlight or any other direct heat source. Lay out on a soft, clean towel and pat-dry any excess water on the surface.
Buying Leather Gloves Smartly
A good pair of leather gloves affects everyday work especially when you are at work. It's one of those things worth buying at the highest quality, whether you need these for heavy-duty industrial work or for light-weight DIY construction projects at your home workshop. Consider each feature stated in the guide above before you place an order! Hopefully, this guide have helped you know all the ins and outs of buying leather gloves.